Capitas Founder and Chief Commercial Officer Jeremy Hartill recently completed the SPAR Swiss Epic – a gruelling five-day mountain bike cross country marathon race through the Alps – raising funds for Wings for Life. Here, he shares his experience …
The SPAR Swiss Epic is part of the Epic Series, a global portfolio of best-in-class mountain bike stage races, which also include the well-known Absa Cape Epic in South Africa. Two-person teams – comprising top professionals and ambitious amateurs – challenge themselves on the world-famous trails in Graubünden. This year's edition led from Arosa via Laax to Davos. In the process, the race covered 363 kilometres and climbed 11,650 metres in altitude before reaching the finish. It really was a unique test of endurance, resolve and skill.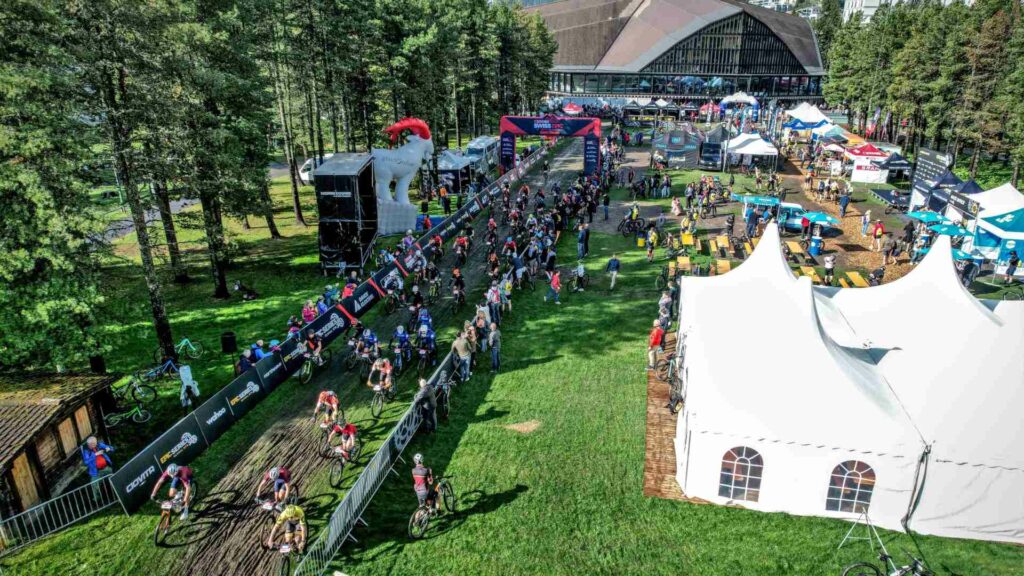 The SPAR Swiss Epic was my first experience of racing in a global Epic Series event. I've been listening to riders talking about the South African races and reflecting on 4Islands MTB Croatia. What's clear is that the SPAR Swiss Epic is the perfect stepping-stone towards the Absa Cape Epic.
The stage distances were not massive for a marathon event, but the high-altitude blasts, epic rocky descents and hidden single tracks were properly tough. The terrain combined physically challenging natural lines, rocky traverses cutting across scree slopes, flowing sandy berms and pine forest switchbacks with plenty of tree root, which made for a great mix. It was incredibly exciting because riders raced elbow-to-elbow.
And while the starts could be a little nerve-wracking, once I was in the mid-race groove, the field started to spread out and I could relax a bit.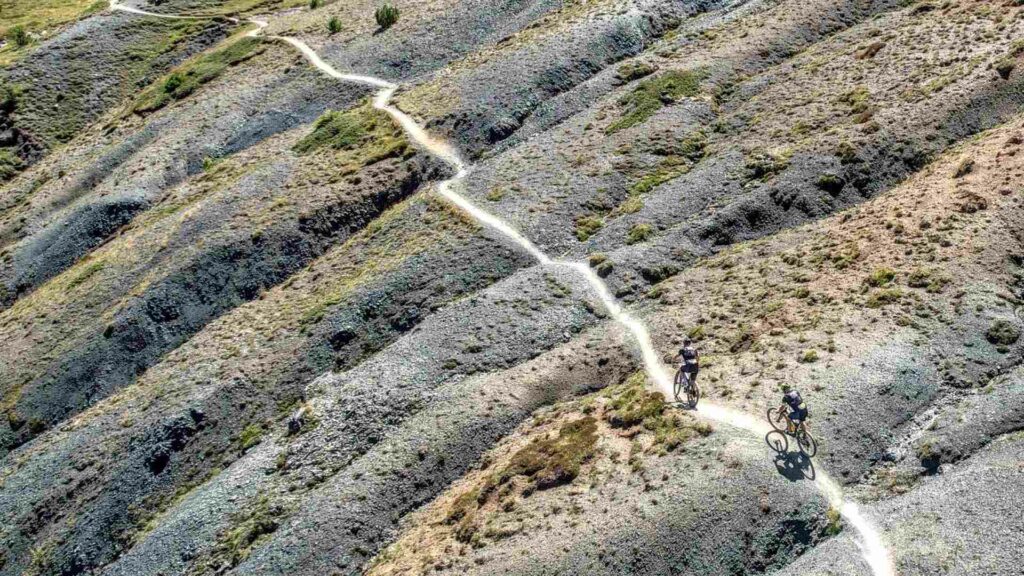 Amazingly, I only suffered one puncture during the five stages on one of the many rock gardens that punctuated the course. When I first started cross country racing, I would get nervous if I had a flat tyre, a skipping chain or a loose brake lever. In mountain bike cross country events, riders are expected to diagnose and fix basic mechanical issues. I didn't rush things and cleanly fixed the flat tyre in less than two minutes. It's never an ideal working scenario, where I have all the tools and a work surface, so there are all kinds of variables that aren't present in a workshop. For me, it's just a matter of salvaging what I can.
The riding in Graubünden's towering Swiss Alps is exhausting. Coming from sea level, I struggled with the altitude. Climbing, riding, or trying to race between 1500 and 2800 metres above sea level is something that I'm not used to. I knew it was going to be an issue coming into the race, so I did my best to pace myself.
That climbing and altitude came with a major benefit though. The scenery was incredibly beautiful. The mountains are massive, the lakes are beautiful, the rivers are clean and there are breath-taking views around every corner.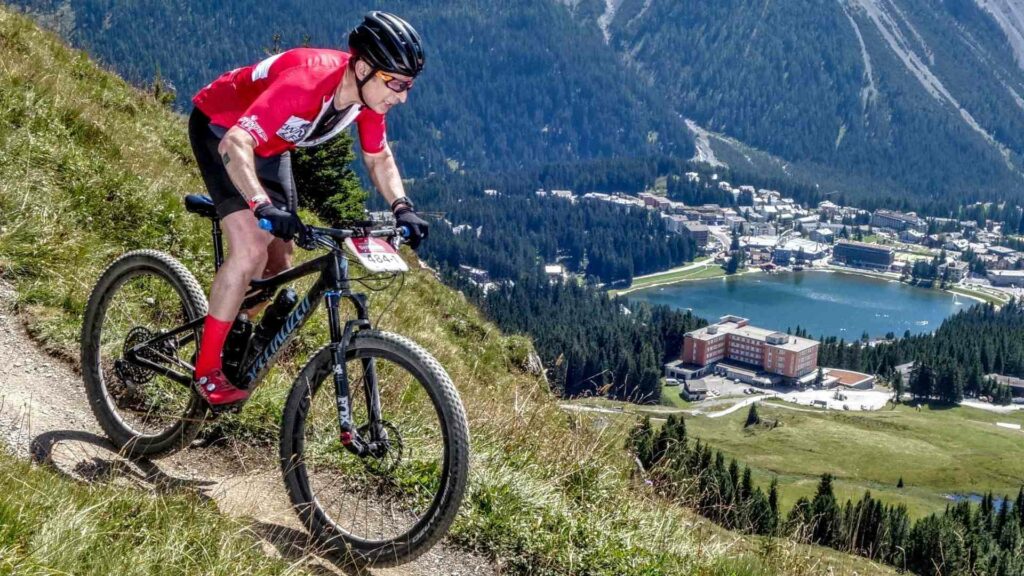 In racing the Swiss Epic, I've been raising fund for Wings for Life, a not-for-profit spinal cord research foundation. The driving forces behind Wings for Life are the two-time motocross world champion Heinz Kinigadner and the founder of Red Bull, Dietrich Mateschitz. It funds world class research and clinical trials aimed at finding a cure for spinal cord injuries. To date, the charity has funding 170 projects around the world.
I was inspired to support the charity as Capitas Finance's Non-Executive Chairman Philip White is Patron of the charity – we have been friends and work colleagues for over 30 years. Philip suffered a spinal cord injury following an accident at home in January 2019. It left him with a broken C5 vertebrae and damage to his spinal cord. His injury was rated as ASIA Grade A – Complete, which signifies the complete absence of all motor and sensory functions.
Raising money for Wings for Life is a cause close to my heart. It's to support a true friend's ultimate goal – to walk again. There's an old saying; "the efforts of one person can't move mountains. It's the strength of us all working together that makes a change."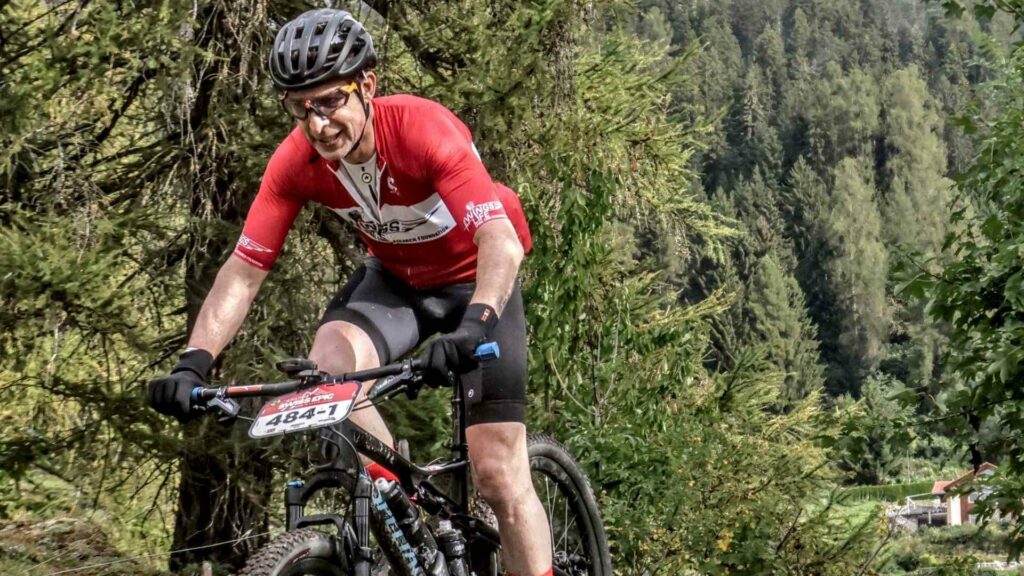 I set a fund-raising target of £10,000 and to date, we have raised just over £13,000. I am incredibly humbled by this, and I would like to thank everybody who has supported me, including my race partners; Edina UK, Journey Energy Solutions and Capitas Finance.
Partnership was the key word here working together to achieve what we both needed.
Since racing takes such a personal investment it means everyone at elite club level around the globe is willing to make great personal sacrifices to be there … we're all committed. We were out in Switzerland racing for not much more than a few contingency prizes and a cool finishers medal. Without major sponsors to impress or big prize money to win, we were racing simply for the fun of it. We worked together, helped each-other out, and did all we could to make sure we had a great race across the five stages.
My plan is to keep my fund raising page open until the end of September. If you would like to support this worthwhile charity, click here. 100% of all donations will go towards funding cutting-edge spinal cord research projects to help find a cure for spinal cord injury.
Keep up to date on energy & clean tech